An Easy Lip Care Routine: Hacks For Softer Lips
July 05, 2022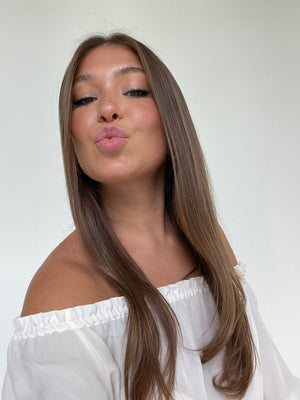 Banish dryness for good with these easy tips and tricks for softer, smoother lips
Sure, we all want to know the best tips for softer lips. But do you have any guesses why? Well, if you think about it, no other area on our face gets used (and possibly abused) quite like our lips do. And whether we like it or not, they also say a lot about us as far as first impressions go. Think about what you first notice about someone's face. Chances are, you're taking in their lip traits like shape, smoothness and also expression.
Want to put your best face forward? Follow these easy tips for softer lips.
Adopt good lip hygiene
Just like there are tips for maintaining optimum health, like drinking eight glasses of water every day, getting in 10,000 steps and sleeping at least eight hours every night, there are some key tips for softer lips. And they're way more doable! Keeping in line with maintaining your skin's hydration levels, yes, drinking adequate water is important. So is humidity. If you find yourself waking up with dry, cracked lips, it may be time to invest in a cool air humidifier next to your bed.
Another great practice to get into for softer lips? Leave them alone. That's right, our lips can take a beating when you consider all the motions we put them through daily. Whether we're picking at them, biting them or simply licking them to keep them feeling moist, just don't. Your lips will be better for it, we promise!
Lastly, you want to shop smart when it comes to products that will make your lips softer and ultimately, you feel better about using. That means formulas without parabens and claims that you care about, like cruelty-free and vegan. Just think about the product you ingest all thanks to your lips. 
Prevent and treat peeling the easier way
One of the most important softer lips tips? Starting with a smooth base (read: no dry, flaky skin). Not only can dry lips feel uncomfy and look unsightly, but they can worsen if not dealt with quickly. The fix? Invest in a moisturizing formula that specifically targets peeling lips, like this handy lip booster. It's gentle yet easy to use on the go, unlike an exfoliating lip scrub that you have to wash off. Thanks to rich avocado oil, it conditions and renews dry lips, leaving them silky smooth.
Find your ideal balm
The perfect-for-you lip balm is one that you're going to love using! So how do you find the one that's actually going to last in your lip rotation
and
give you softer lips? Consider its main features, like texture, scent and ingredients. For example, if you're a coconut oil devotee, you're going to love
this ultra-soothing lip butter. Its creamy, thick texture coats lips and provides hours of moisture so you don't have to keep reapplying every time you take a sip of your cold brew. Take it one from a recent customer review, which said to use this as a nightly lip mask. Come morning, your lips will be super soft and smooth.
If fruity balms are more your bag, reach for this range of fruity-flavored balms that boast an impressive 10% almond oil for soft lips.
Color and care at the same time
Let's be real, some products will always make your lips look softer than others. When it comes to makeup tips for softer lips, formulas matter. A creamy lipstick will always make your lips look more supple than a super matte variety. You can't go wrong with this hybrid semi-matte lipstick that coats lips in rich nudes with a high color payoff yet hydrating finish that won't dry out your lips. Choose from 20 ultra-flattering shades that work for every occasion. 
you might also like...
Milky skincare products are all the rage right now but do you know why? From skin smoothening effects to calming benefits, learn why you should add this milky moisturizer to your skincare routine today.
We've fallen hard for natural nude makeup! Master the art of natural nude makeup with our easy-to-follow steps and product tips and tricks. No-makeup makeup has never been easier to achieve.