Our Secret For Hydrated Skin
August 15, 2022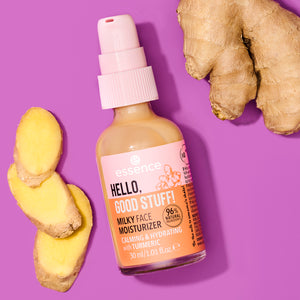 Milky moisturizer is the answer to your skincare hydration prayers 
From milk skin to milky nails to milky textures, all things milk are trending in beauty. Sure, we're all familiar with the rise in popularity of alternative milk (oat! coconut! soy! rice!) and our morning brew is forever grateful. But milky beauty products and trends? We're seriously here for it. Who doesn't love the effect of milky-smooth skin or nails that resemble a tall glass of the good stuff? And texture-wise, nothing feels as good on the skin as a milky skin moisturizer.
So what's behind the craze for all things milk in a facial moisturizer? History, actually! Nefertiti was said to have used milk in her face masks along with eggs and honey, while Cleopatra apparently bathed in it for soft skin. These infamous beauties were onto something. Lactic acid, which is a hydrating alpha hydroxy acid (AHA) derived from milk, is an ingredient known for brightening, smoothing and evening out the skin, with firming and antiaging benefits as well. And who could forget the cold milk compresses that mothers have been applying to sunburns for years?
Beyond actual milk formulas, milky moisturizers–which are all about that creamy texture–have become beauty's newest darlings. Sensitive skin girls already know the benefits of OG milky skincare formulas (hello cult-fave cleanser Cetaphil). Today's milky moisturizers are still gentle on the skin but level up with good-for-skin ingredients like antioxidants.
Is a milky moisturizer for you?
If you're looking for a lightweight, good facial moisturizer that goes on like a serum, this vegan milky skin moisturizer is for you. We especially love this for the summer months when the temps rise and the last thing we want to apply to our skin is a facial moisturizer that feels really heavy on the skin.
Here are three more reasons to add this milky moisturizer to your skincare rotation:
It has multiple uses
No matter what your skin type is, you can use this milky skin moisturizer for hydrating results. If you have dry skin, try using this formula after applying your regular serum and daily moisturizer in the morning. It's light enough to layer overtop of your skincare products or simply wear alone as your moisturizer for the day. If your skin is on the oily side, try using this milky moisturizer as your new primer. It absorbs quickly and plays nice with your foundation, serving up good skin vibes that will carry through the day.
The good-for-you ingredients work hard
This milky moisturizer packs an antioxidant one-two skincare punch, thanks to ingredients like turmeric, oat water and ginger (like, can we get this in a smoothie, too?). Turmeric is anti-inflammatory and super calming for the skin and helps treat issues from acne to hyperpigmentation and more. Oat water also has a calming effect on the skin and helps amp up hydration by restoring the skin's barrier function.
The sensorial experience is nice, too
Maybe it's the sweet dessert-like scent or maybe the fact that the formula is dispensed through a pump but this milky moisturizer just feels nice to use. You don't have to worry about any cross-contamination, thanks to the pump and you can feel good about its ingredients being 96% natural, and vegan, cruelty-free formula that's also free of alcohol, parabens and microplastics.
If you need more convincing, take it from this review by Octavia:
"Very soft, the smell is incredible! I love it! It is not greasy and absorbs very fast, leaving the skin soft very quickly. Totally recommended."
you might also like...
Milky skincare products are all the rage right now but do you know why? From skin smoothening effects to calming benefits, learn why you should add this milky moisturizer to your skincare routine today.
We've fallen hard for natural nude makeup! Master the art of natural nude makeup with our easy-to-follow steps and product tips and tricks. No-makeup makeup has never been easier to achieve.