We're Giving Up Our Best-Kept Eyeliner Secrets
August 15, 2022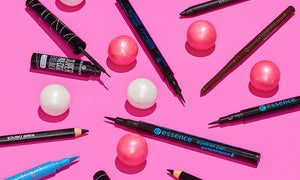 We've got the best secrets, tips and tricks to get you to eyeliner goals-stat!
If you're anything like us, your eyeliner love runs deep but applying it can sometimes feel like a love-hate relationship. No other beauty product is as high maintenance as eyeliner, period. We also expect a lot from it from a performance POV. We want lasting power, of course, smudginess for a killer smoky eye, precision from a liquid eyeliner and perfectly-pigmented colors for when we want to try a new trend like underliner. Now that our high expectations for all things eyeliner are outta the way, now is a good time to brush up on the eyeliner secrets that will make your eyeliner goals a reality. If you've ever searched up how to do your eyeliner in TikTok, right this way, please!
1. Know your liquids from your pencils.
Not all eyeliner formulas are created equal (for good reason!) and it's important to know what texture will give you the results you want. Here's an eyeliner tip: Pencil formulas will always be a little easier to work with than liquids. When you want the precision job of a liquid liner, say for a killer cat-eye, then liquid is always the way to go. If you're going for a smudgy smoky eye look, an eyeliner pencil is going to get you there quickly. The most versatile pencil? This kajal because it packs rich color and a smooth formula that glides over the eyes.
2. Speaking of liquid liner, waterproof formulas rule for longevity
Take this new soon-to-be cult fave liquid liner for example. It dries quickly and gives the most precise line that you can use to draw on Euphoria-worthy graphic shapes, a double-wing or simple swipe that is perfectly subtle. We're obsessed with the substantial felt tip and short product tube–an eyeliner hack that makes for an easy application no matter which Lash Princess Liner you choose!
3. But if you're a beginner, start with a pencil, please.
Make it a long-lasting one, for good measure. One of the eyeliner secrets the pros use when crafting precise eye looks? Drawing with a pencil first. Not only does it give you a line to trace over, but if you make any mistakes, you can easily clean up your mishap with a cotton swap and start over.
Our fave way to give eyeliner the spotlight it deserves? A colorful underline in a summery hue. We love the shades Tu-Tu-Tourquoise and I Have A Green for a pop of color. This lineup of long-lasting pencils gets bonus points for being self-sharpening.
4.  If you're curling your lashes after applying liner, stop. One of the quickest ways to ruin the gorgeous eyeliner you spent all that time perfecting? Using an eyelash curler after your liner application (admit it, you're guilty of this one, too, aren't you?). Since you don't want half of your liner to transfer to your curler, instead, curl your lashes before you apply eyeliner, then follow up with your fave mascara.
5.  Brightening your waterline is a fast and easy eyeliner hack. Instead of applying the typical white eyeliner that can sometimes appear too harsh for those with darker skin tones, go for a silky nude tone on your waterline. It will still pick up the whites in your eyes and bring so much light to your gaze. Think of it like a gentler more subtle brightening-eye effect that people won't realize is just the result of good makeup.
 6. A sharp eyeliner tip is the best tip. When it comes to learning how to do your eyeliner right, making sure your product is in optimal condition is key. Be sure to keep your pencils nice and precise with a duo sharpener that accommodates both standard and jumbo eyeliner sizes.
you might also like...
Milky skincare products are all the rage right now but do you know why? From skin smoothening effects to calming benefits, learn why you should add this milky moisturizer to your skincare routine today.
We've fallen hard for natural nude makeup! Master the art of natural nude makeup with our easy-to-follow steps and product tips and tricks. No-makeup makeup has never been easier to achieve.