Why Everyone Needs Color-Changing Lipstick
August 15, 2022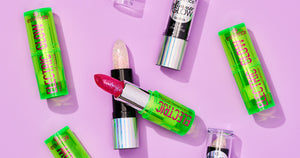 See what all the hype is about with these viral color-changing lipsticks 
Go ahead and name a more nostalgic beauty product than color-changing lipstick. We'll wait. Maybe it's because they're the beauty version of our fave mood rings from childhood but there's just something about a personalized color payoff that we can't get enough of. Each swipe of it creates an excitement that no other product gives us, frankly.
If you're new to the world of color-changing lipstick, the way they work is quite simple. An ingredient in every color-changing lipstick, (it's called Red 27 for all you science lovers), reacts to your skin's unique pH balance to give you a truly unique-to-you shade. Depending on your skin's moisture level and your skin tone, the color-changing lipstick will begin to change and adapt to your unique shade, right befor your eyes. How cool is that?
Not that you need any more convincing to try color-changing lipstick for yourself, but it recently hit viral status, thanks to this OG game-changing tube. With a color-adjusting formula and bullet that shines bright like a diamond, it leaves your lips with the most perfect hint of rosé. See the effects for yourself on TikTok when you search up color-changing lipstick. The best part is, the formula is vegan, clean, and free of gluten, alcohol, oil, parabens, preservatives, fragrance and microplastics, all for the price of your fave latte.
Meet your newest color-changing lipstick crush. Already making the rounds among beauty lovers is this new electric glow version. While it still leaves lips with a pinkish tint unlike the bright and sparkly bullet suggests, you can expect major juicy lip vibes with just a few swipes. We don't know what we love more, the neon packaging or the beautiful, light-flecked bullet!
One color-changing lipstick, three ways to wear it
If you think there's only one way to wear color-adjusting lipstick, think again. The beauty of a personalized lipstick bullet lies in its versatility.
 1. The most obvious way to wear your fave color-changing lipstick is with a few easy swipes straight from the tube, which gives your lips a just-bitten effect. For a subtle shine payoff, go with one or two layers of the formula. If you want to dial it up for date night, go with a few extra swipes.
 2. One of our fave ways to wear Electric and Glimmer Glow Color-Changing Lipsticks is with lipliner for extra lip definition. Choose a shade that best matches your natural lip color and use it to outline your lips or fill them in entirely for an ideal base for your lipstick.
 3. Did you know you can use color-changing lipstick as a glossy top coat for your other lipsticks? One of the best features of the Electric and Glimmer Glow Color-Changing Lipsticks is the shine factor they serve up on your lips.
you might also like...
These are the summer lip combos trending on TikTok. From the perfect nude lip to a vinyl glossy cherry pout, we've rounded up the best lip looks of the season.
Milky skincare products are all the rage right now but do you know why? From skin smoothening effects to calming benefits, learn why you should add this milky moisturizer to your skincare routine today.