Makeup Trends To Watch Out For In 2023
January 23, 2023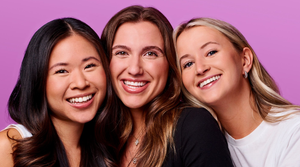 Want to know what's new in makeup for this year? You've come to the right place!
Friends, the beauty forecast for 2023 makeup trends is in and it doesn't disappoint. When it comes to what's new in makeup and the actual best-of-the-best trends, there's a lot to unpack. We're talking colors, techniques, products and even hacks! Thankfully, we've done all the work (ahem, and scrolled the feeds of many BeautyTok stars) and also checked out the trend-driving runway shows to bring you this crystal ball beauty moment. No matter what your makeup vibe is for this year, you'll find an inspired look below, trust us.
Here are the top makeup trends to watch out for in 2023 and the products to help you get the look.


Artful Eyes
Eye makeup trends come and go but statement-making shadows are worth committing to in 2023. From the pastel shades we've come to love as a wash of color on the lids to the artful expressions made famous from Euphoria, there is no shortage of creativity when it comes to trying the artful eyes makeup trend. To get the look, you'll need a showstopping eyeshadow palette that packs a variety of bold yet pretty colors like this florals-inspired one in shade I'm So Fly.


Coquette makeup
One of the major makeup trends on our radar for 2023 is coquette makeup. What is that even, you ask? Think the soft and pretty makeup looks seen on the likes of Lily Collins from Emily in Paris, Ariana Grande and Lana Del Rey. The end result should look as if your makeup has a soft filter on it that's girlish and doll-like. You can achieve the coquette beauty trend easily with the help of a couple of essential products. Start with lashes that make a statement. This is where a volumizing and lengthening mascara is a must. Then, you'll need a really good creamy blush stick that blends into the apples of the cheeks seamlessly. If your finished look is giving flirty, sultry and fun, you've nailed it.


Boss Brows
If watching countless GRWM TikToks has taught us anything about achievable beauty trends it's that big, beautiful brows (or boss brows as we like to call 'em) can be ours with the right products. The shortcut way to getting statement brows that doesn't involve a trip to the brow bar is a brush-on brow fixing gel that will hold brow hairs in place with your fave brow pencil applied overtop. If you switch to this order of product application you'll notice a difference in the final effect. Finish off the look by blending in the brow color with the perfect brow brush so it looks natural.


Hyper-Glowy Skin
One of the beauty trends we're most excited about is hyper-glowy skin. How else can we look our best in our BeReal posts, right? This makeup trend is all about perfect-looking skin that looks filtered but in a good way. We're talking light-reflecting sheen and maximum coverage. For this, you'll need a base coat of primer (always shop for one according to your skin type) and a long-lasting foundation with really good coverage. Application matters for this look so apply your foundation with a big brush so you can give it the blending job it deserves!


Hello, Bright Eyes
If you're a fan of Alix Earle on TikTok (seriously, who isn't?) then you might already know one of her beauty hallmarks is bright, beautiful eyes. Well, you too can get the look and you only need one key product: nude eyeliner. Simply apply this silky nude eyeliner to your lower lash line to make your eyes pop instantly. Go a step further with her best lash trick, which involves really getting to the base of your eyes with your curler. It feels a bit uncomfy if we're honest but it seriously works!

Glossy-lined lips
We can't talk about what's new in makeup without covering the return of the beloved 90s beauty trend of matte lip-liner plus balm. What makes it modern for this year is all in the application and color. Start by overlining your lips using
a creamy lipliner in a brown or nude color
. Next, apply a
slick glossy balm
to the lips and voilà: you've got a Hailey Bieber-worthy pout.
you might also like...
The hottest nail trend of 2023 is lip gloss nails. If they're good enough for Jennifer Lopez, they're good enough for us. Here's how to get the best lip gloss manicure at home with these easy tips and tricks.
The biggest makeup trends to watch out for in 2023 are here. From boss brows to statement shadows to gorgeously glowy skin and more, check out the best in beauty trends for the year ahead.