Applying Highlighter The Right Way In 2023
January 23, 2023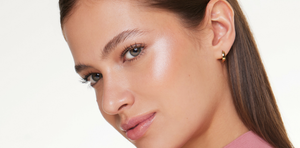 The easiest way to make your skin look lit is by applying a highlighter


Want to know how to apply highlighter the right way in 2023? We'll get to that but first, let's go back to where the trend first started. Hint: it wasn't Jennifer Lopez who brought gleaming, glowing skin to the scene. But it may have been her makeup team. It's hard to remember a time before highlighter, honestly. Can you picture beauties like Bella Hadid or Khloé Kardashian without it? No glazed donut skin or glass skin vibes would be possible without highlighter, TBH.

The History of Highlighter

Rewind to the early 90s when the ideal complexion was matte and didn't reflect any light. So hard to imagine, right?! Well, we have the film industry and talented makeup artists to thank for creating strobing, which was all about mimicking the flash from a camera, which brought flattering light to the skin. Soon after, in the 90s and early aughts, beauty companies came out with skin highlighters (right around the same time that JLO rose to stardom obvs). Ever since, we've relied on highlighter to make our skin look its best.
If the history of highlighters hasn't already convinced you to add a new highlighter immediately to your cart, consider these reasons to apply it. We're just going to go ahead and say it: highlighter is an unsung beauty hero that everyone needs. It can double as eyeshadow, make you look like a skincare queen and it's super easy to use. Oh and thanks to #BeautyTok, there are so many new ways to work it. Here's how to apply highlighter the right way in 2023.

Choose the right color

Applying highlighter the right way in 2023 requires finding the right shade for your skin. That means that super light shade of your friend's that you tried years ago is not gonna work. Aim for a tone that's about two shades lighter than your skin. This will give noticeable yet natural-looking results. After all, the highlighter goal is skin that looks lit (from within).

Applying highlighter for day vs. night

There are highlighter looks for every day and then there are highlighter looks for turning things up a notch. Understanding the difference is key. The good news is, you don't need to buy five different highlighters but you do need a few beauty pro secrets on how to work it. A great place to start is by finding a really good powder highlighter that you can use in different ways.
For an everyday-worthy look, use your powder highlighter as a finishing step to accentuate specific areas of your face (aka the places you want to slightly play up). Our fave areas are the tops of the cheekbones, the centre of the nose and the middle of the forehead and the center of the chin. Think of the final effect as the finishing brightening touch to your makeup.
For those occasions when your look needs to be a little extra, say for a first date, here's how to apply highlighter the right way (so it's a lot more noticeable). While you can still use your fave powder highlighter for this look, we're going to tell you how to work it like a beauty pro. Before you apply your foundation, take your powder highlighter and this long-wearing makeup fixing spray and mix them together on your hand (just swirl the powder on first before liquifying it with your spray). Then apply to the same areas that you really want to bring out. Follow up by applying your foundation and concealer as you normally would and notice the glow factor of your skin. As a last step, go ahead and go in with your powder highlighter again to those same areas. You can also add it to a few more places (this time use a smaller brush)  like underneath your brow bone, your inner eye corners and Cupid's bow.


Do's and don'ts to applying highlighter
Do use a large fluffy brush to diffuse the right amount of highlighter on your skin for larger areas like your cheeks and forehead.
Don't apply highlighter as liberally as you would a bronzer or blush otherwise your face will be too reflective.
Do build up to your desired highlighter coverage as it's easier to add then remove if you've been too generous on your first few swipes.
Don't rush through your highlighter application. Apply some, step back and access your look in the mirror before adding more.
Do apply your makeup in natural light so you can really see if the shade you're using is the best match for your skin tone)
you might also like...
From a glowy and gleaming complexion to bright summer lips and cheeks, and more, we've got your summer makeup look on lock. Here's how to channel your fav summer It-Girl makeup routine.