Beginner's Guide To Becoming a Makeup Artist
January 19, 2023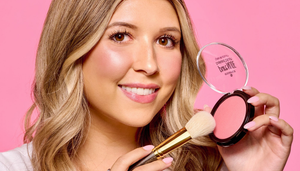 So you want to be a makeup artist? Read this first
We have entered a new era of the makeup artist. What used to be known as an ultra-exclusive title worthy of a lot of training and grunt work has now become a little more loose–and that's a good thing. Now, anyone with solid makeup skills and a channel to broadcast them on can learn how to become a makeup artist. Take the meteoric rise of 24-year-old Mikayla Noguiera, who was working as a makeup artist at Ultra before 2020 hit and she joined TikTok on a whim. Now, she has over 13 million followers on that platform alone and makes her living doing what she loves: demonstrating her makeup artistry skills in a relatable way.
If you're an aspiring makeup expert and aren't sure how to take your skills to the next level or how to show them to the world, you're in the right place. Here are 7 ways to help you break into the makeup artist biz.
https://essencemakeup.com/pages/stylists
Get Real About Your Skills
Every successful makeup artist should be comfortable with the fundamental basics of makeup artistry: color theory and correcting and proper skin prep and hygiene. If you're thinking about enrolling in a professional makeup artistry course, just do it. The skills you'll learn will serve as the perfect foundation to learn from. Be sure to do your research into reputable programs. Have a fave makeup artist you follow? Look into where they did their training.
The next best thing to a professional artistry program? Learning on the job at a beauty counter. Most brands offer thorough education and training and there's no better way to learn how to become a makeup artist than with hands-on training.
Practice Makes Progress
They say it takes 10,000 hours to achieve mastery in any skill. Let's break that down a bit. If you dedicate 80 hours a week to learning how to become a makeup artist, you'll be considered a pro in about two and a half years. We're not saying this is an exact science but we are saying you need to put your hours in to become skilled. The best way to get your practice hours in? On yourself and your friends. Be sure to experiment on different faces for best results. Often, people become skilled at their own makeup only–which is really limiting (but totally okay if you plan on becoming a makeup influencer!).
Brand Yourself
Even if you're just starting out as a makeup artist, branding will help build your reputation. First off, establish yourself across social platforms like TikTok and Instagram (we recommend graduating to YouTube). Go ahead and add the acronym MUA to your handle, too. It's also important to establish your style. Think about how you want to display your artistic ability and be consistent with it across all avenues.
Get Social
When thinking about the content you want to post, ask yourself, what makes it unique to you? Authenticity is the secret sauce to building your brand and profile successfully. There are so many ways to grow your following the right way. Try participating in makeup challenges (that's how Mikayla blew up!), use trending music and interact with your fave makeup artists regularly. Post your beauty creations frequently and don't be shy about tagging brands and using hashtags to increase your chances of getting picked up on their channels. For example, essence regularly profiles stylists on Instagram and website.
Do Creative Shoots
Once you have a great digital portfolio of your makeup artist ability, think about what you might be missing or want to do more of and get creative. Have a friend who would make a great model? Do some creative shoots with them. Think of big makeup artist moments and plan your content around them. Is Halloween coming up? Why not show off your fave looks. Planning ahead will ensure you make space for your creativity to shine.
Volunteer Often
Aspiring makeup experts know that volunteering is one of the best ways to open up doors to new relations and future potential clients. Pro makeup artists often rely on extra helping hands on photoshoot sets so why not put your hand up for some pro-bono makeup artist work that will pay off in experience down the road? It's also a good way to learn some of the soft skills required for becoming a makeup artist. Think communicating with clients and working with models or talent.
Build a Good Beauty Kit
Becoming a good makeup artist also means being prepared. Stock your makeup kit with a variety of product shades, textures and brushes so you can be versatile. Every face is unique and being prepared for anything will help you out big time. Know your products inside and out and don't be shy about experimenting. Is there a viral foundation or must-have mascara you should be stocking? Make sure you have them. Learning how to become a makeup artist can be fun, too!
you might also like...
We're spilling the tea on achieving a flawless makeup base using our top-rated makeup products.
You don't have to break the bank for a full face of makeup that looks expensive. Here's how to achieve the best full-face of makeup for under $50!