Here's How To Match Foundation To Your Skin Tone
January 24, 2022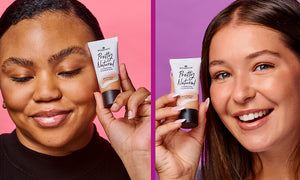 Finding your perfect foundation shade has never been easier!
Listen up if you want to learn the right way to match foundation to your skin tone. We're not gonna lie, we have a lot of boxes to check when it comes to finding the perfect foundation. Let's see, it has to be invisible, a texture that makes our complexion look model-worthy, lightweight yet longwearing, the list goes on. But arguably the most important factor is finding the right color for our face that actually matches our skin tone. Better yet, let it be an improvement on our skin tone, please and thanks.
We've rounded up the best foundation matching tips to make your life easier and your skin more flawless, a win-win, right?
Swatch it Good
The one hard and fast rule to matching foundation to your skin tone? Test it out on your skin–the right way. Just a dab on your chin won't do, instead, take a page from this celeb makeup artist on TikTok and test color swatches vertically on the area where your face meets your neck. Then, let it sit before you decide on "the one". Liquid foundation tends to oxidize (read: darken) throughout the day, thanks to factors like your skin's pH and how the formula dries, so give it a few hours before you buy. Hint: you want the one that disappears on your skin.
Find The (Natural) Light
When it comes to choosing the right foundation color for your face, lighting makes all the difference. Try to find a well-lit room or big window during daylight to look at your complexion in when testing out shades. Fluorescent or artificial light can skew color so natural light is always your best bet when you want to match foundation to your skin tone.
Know Your Undertones
When it comes to your skin, it's important to know what your undertones are: warm, cool or neutral. An easy trick for learning yours is to look at your skin and see whether you have any
pink or red undertones (if so, you likely have a cool undertone). If you have more of a golden skin hue, you're likely to have a warm undertone. Have both? That means you're neutral.
Think Seasonally
So that bottle of foundation you have from winter? It's not going to work for the summer. Skin naturally darkens about one or two shades during the warmer months so just like you have to shop seasonally for clothes, you have to choose your foundation shade seasonally, too.
Prep Your Skin
Sure, there will always be those mornings where you only have a few minutes to apply your foundation and dash but for the days when you have time to really match foundation to your skin tone, prepping your canvas is key. If your skin is dry, be sure to moisturize it adequately and if it's on the flaky side, go ahead and exfoliate. Dry, flaky skin can be enemy number one when it comes to achieving an even complexion.
Texture Matters
Just like knowing your skin's undertones will help you select the appropriate shade, working with your skin's natural texture can help give you the perfect foundation match. Notice the words used to describe your foundation on the label. If it says mattifying, you know it's for oilier skin types. If it says hydrating like with the Essence Pretty Natural Hydrating Foundation, it works wonders for dry skin (however, one quick scan of the reviews will also tell you it's not just for dry skin).
Find Your Shade Online
With foundation shade ranges expanding (and rightly so!), it helps to have a sense of your shade to start from when it comes to finding the perfect-for-you color. Hot tip: use a shade finder tool to match foundation to your skin tone. Let it take the guesswork out of trying to match shade swatches from your fave beauty YouTuber and you'll be amazed at how quickly the tech can help you narrow down your best options. Simply fill out a short quiz or sub in the shade you normally wear from a different brand and voila, you'll be served up your best options!
you might also like...
From a glowy and gleaming complexion to bright summer lips and cheeks, and more, we've got your summer makeup look on lock. Here's how to channel your fav summer It-Girl makeup routine.