How To Amplify Your Eyes The Easy Way
October 04, 2022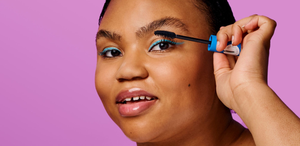 Bigger, beautiful eyes will be yours with these simple steps
Pop quiz: What do Disney princesses and Sydney Sweeney have in common? Their big beautiful eyes, of course! There's no denying that main-character energy is often tied to bigger-is-better facial features like the lips and eyes. After all, the bigger your eyes, the more you'll be noticed, right? Thankfully, you don't have to be a fictional character or naturally blessed with larger-than-life eyes to still reap the benefits of a big, bold gaze.
Here's how to make your eyes look bigger and more wide awake. Hint, it's all in finding the right eye makeup to open up your eyes.
Get on team eye-roller
Eye rollers may fall under the IYKYN category, but that changes today. If you really want to make your eyes look bigger and achieve a stare that truly stands out, you'll need to start with the proper eye skincare prep. A quick and soothing way to spoil (in a good way) your eyes is by applying a brightening and depuffing eye-roller before your eye makeup. This will help nix any dark circles and puffiness and will instantly perk up your whole eye area, thanks to its caffeine-and-vitamin 3-infused formula and cooling applicator. Once you go team eye-roller, you never look back.
Concealing = brightening
Concealer doesn't have to be as complicated as TikTok contouring videos will tell you. Actually, one of the easiest tricks to make your eyes look bigger is with a hard-working concealer. This high-coverage waterproof formula is perfect for banishing serious dark circles (it even covers tattoos!) and will leave the delicate skin around your eyes bright and smooth. For a natural finish, be sure to use a gentle hand when applying it. Simply pat it on underneath and around your eyes, paying close attention to any dark or shadowy spots, for a flawless effect.
Say hello to longer, lifted lashes
When you think about the celebs with the biggest, boldest eyes, chances are their lash game is on point. We're here to tell you that you don't need faux lashes to fake a bigger, better lash fringe. Lash-extending mascara is the beauty secret the pros use to get the look of eye-enhancing falsies in an instant. The reason why this long-lasting lash-extending mascara is a fave? It curls, volumizes and lengthens for a doll-like fan. The bonus to using this mascara is that it plays nice with others, so you can layer it with this cult-classic bestselling mascara.
Nude liner is your secret weapon
A tried-to-true trick for using eye makeup to open up your eyes is applying nude liner to your waterline. We're here for the beauty hacks that have earned their cred over the years and this is one of them. If you haven't yet tried it for yourself, it's super easy. Take this silky nude liner pencil and trace it along your lower waterline. Before doing the other eye, check out the difference in the mirror. The results will impress you so much that we're willing to bet you'll never underestimate a simple nude liner again.
Try out shadow play
One quick scroll on TikTok will tell you that beauty darlings love to strategically-placed luminous eyeshadow to make their eyes look bigger and we're cosigning this beauty hack. One of our favorite ways to enhance small eyes is with this eye-opening makeup trick. After applying your eyeshadow base all over the lid, simply take a light-reflecting shadow (try this shadow in champagne) and apply it overtop, focusing on key areas like the middle of your lid, along the brow bone and to the inner and outer eye corners. This will create the illusion of dimension while opening them up so they look big and beautiful.
you might also like...
We're spilling the tea on achieving a flawless makeup base using our top-rated makeup products.
You don't have to break the bank for a full face of makeup that looks expensive. Here's how to achieve the best full-face of makeup for under $50!