Perfect DIY Gel Nails At Home
June 24, 2022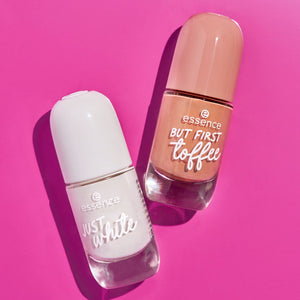 Finally there's an easier way to achieve amazing gel nails at home!
If there's one valuable beauty lesson we learned during the past two years, it's the benefit of DIY beauty treatments. An easy one to add to your growing list alongside at-home facials and coloring your hair with box dye? DIY gel nails. We never thought we'd say this either but splurging on gel manicures at the salon just doesn't have the same appeal as it used to. But that doesn't mean we don't love the look of a fresh gel manicure. There's just an easier and more budget-friendly way. Enter our guide to achieving a gel manicure at home. We'll show you how to achieve pro-worthy gel manicure results, all in the comfort of your own space. So find something to stream and get cozy because we're dishing on how to get the best gel manicure at home. Whether you want to try the new jelly nails trend, minimalist nail art or master your pastel color game in time for spring, DIY gel nails have never been this easy.
Step 1: Prep your nails
The first rule of DIY gel nails? A clean nail bed that's free of oils, and yes, that includes your fave hand cream. Use a nail polish remover and a good-quality cotton pad (they won't shed fibres easily and ruin your polish) to remove oils and debris that may happen after filing, buffing and trimming your nails to get the desired shape and length.
Step 2: Apply a base coat
Grab a fast-drying base coat and apply one coat to your nails. A base coat not only provides an extra layer of protection for your nails but it also prevents any dreaded discoloration from dark polish colors. Base coats also enhance and extend your nail color as they provide an even base for polish to stick to, eventually making it looks smoother and glossier. So the next time you think you can just skip the base coat? Do yourself and your nails a favor and please don't!
Step 3: Paint job
We hate to state the obvious but the more practice you have painting your nails, the better you will be at it. Our advice? Give yourself enough time to apply your polish carefully (in other words, don't paint your nails 10 minutes before you have to leave your house!).
Once you choose your color of this fan fave polish, there are 16 trending shades to choose from, make sure you roll the bottle between your palms to mix up the formula. Shaking it just creates air bubbles that can make it to your nails. The best part about using this fast-drying formula? You don't need a UV light to get the look of gel nails at home. Apply two coats for best results.
When it comes to technique, it's all about comfort and preference but we like the three-step painting approach, which is a swipe down the middle of the nail, and then a swipe along each side. And remember: don't feel the need to be a perfectionist on coat number one. You can always cover harder-to-reach areas like the edges of your nail on the second coat.
Here's a hack we love from TikTok if you're prone to coloring outside your nail lines. Simply apply lotion to the skin surrounding your nail plate and swipe away the mess using a cotton swab.
A final word on mastering the polish stage of DIY gel nails is to ensure you allow for ample drying time. Even for fast-drying nail polishes, you want to wait a good 20 minutes to a half hour before doing activities that might jeopardize that precious mani, like buttoning up your jeans or putting on a seatbelt, which we've learned through trial and error. Tapping on your phone, however, is perfectly acceptable.
Step 4: Apply a top coat
Top coats are like an insurance policy for your nails. You spend all that time perfecting your polish application so why not ensure it stays flawless with this chip-preventing top coat? Its vegan, paraben-free formula dries fast and acts as a protective shield for your nails while giving off major gloss vibes and mirror-like shine – all the benefits we expect from a good gel manicure.
you might also like...
We're spilling the tea on achieving a flawless makeup base using our top-rated makeup products.
You don't have to break the bank for a full face of makeup that looks expensive. Here's how to achieve the best full-face of makeup for under $50!