Tips For Applying Concealer To Nix Under-Eye Bags
February 23, 2023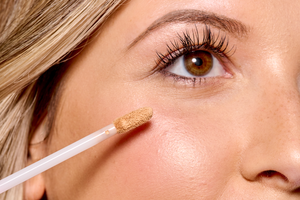 Here's the right way to apply your concealer for brighter eyes
If you've ever typed the words "concealer for under-eye bags" into your search on TikTok or YouTube, you're not alone. Under-eye bags and also dark circles are among the most common gripes makeup artists (and dermatologists alike) hear about most. We get it, they're annoying to deal with and for some, maybe even a permanent fixture on the face. Luckily, there are so many concealer tips and hacks to help. Whether your under-eye bags made an appearance after one-too-many late nights or if they are one of your gifts from Mother Nature, help is on the way.
First, a note on what causes under-eye bags to begin with. Ever notice how some people are just prone to under-eye bags? Chances are they were born with this trait, which is described as mild puffiness and swelling underneath the eye. The news you probably don't want to hear? They can worsen as you get older since the skin around your eyes is so thin and loses volume and elasticity over time. There are some easy ways that you can encourage depuffing when under-eye bags show up unexpectedly. Anything that will help constrict blood vessels to deal with the swelling will work, like this fast-acting eye depuffing serum (or even cold spoons and tea bags in a pinch). Always look for formulas with caffeine–it's the gold standard ingredient known for its depuffing properties
How To Apply Concealer For Under-Eye Bags
Your next best line of defence against under-eye bags is a really good creamy concealer that's lightweight and blends easily. This formula packs soothing aloe vera, which is a treat for tired, sore eyes. Yes, concealer is the only product that can help banish under-eye bags instantly but it's also a bit tricky to get it just right. Follow these three easy steps and you'll be amazed at the results.
Step One: Choose The Right Color
One of the most important concealer tips is finding the right color for your skin tone. With concealer, you want to aim for a shade that's one shade lighter than your natural skin tone. Anything lighter and you'll risk a noticeable concealer job that looks too obvious and unnatural. And anything too dark won't have the brightening effect you're looking for.
Step Two: This Is Where To Apply It
You may have noticed the TikTok hack of applying concealer to just the inner and outer eye corners but that's not going to fly for under-eye bags, sorry! Instead, take the doe foot applicator of your concealer and aim it at the shadowed part of the skin. Then, simply blend the concealer into the skin using this beauty sponge.
Step Three: Set It And Forget It
When it comes to how to best apply concealer to puffy eyes, we can't forget about a brightening powder to set the look. If your under-eye bags are subtle, why not try this hack spied on TikTok with this cult-fave brightening powder? You can also use this to set your concealer and give your under-eyes a final boost of brightness–now that's a win-win.
3 Tips For Avoiding Puffy Eyes
Lay off the salty foods and alcohol the night before you need to look your best.
Try not to rub your eyes (even during allergy season). It'll just make your dark circles and puffiness worse.
Get your zzz's in and aim for 8 hours of sleep every night. Trust us, your morning face (and eyes) will thank you.
you might also like...
We're spilling the tea on achieving a flawless makeup base using our top-rated makeup products.
You don't have to break the bank for a full face of makeup that looks expensive. Here's how to achieve the best full-face of makeup for under $50!