Going Nude: Mastering The Natural Beauty Look
October 04, 2022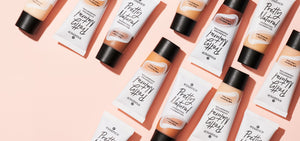 Achieve the perfect no-makeup makeup look in five easy steps!
Okay, our love for nude makeup is reaching borderline obsessive levels, and judging by the countless #GRWM nude makeup tutorials we've binged just proves it. There's just something so pretty and effortless about a natural, monochromatic beauty look. And if you really think about it, it's been a mainstay for years. Celebs like the Jennifers (Lopez and Aniston!) have made it their signature, Kylie Jenner, oh wait, all the Kardashians, have made bank off it and let's not forget: the 90s put nude lips on the map. Thankfully, we no longer have to apply nude eyeliners to our lips for the perfect nude lip look (yup, that was really a thing).
Even though nude makeup looks are minimal looking in nature and give off a low-key vibe, that doesn't mean they're low-maintenance. The best nude makeup is achieved in steps, and we've made them easy to execute. Here's how to master the no-makeup makeup look once and for all.
 Step 1 - A Fresh Complexion
The best nude makeup look will put your natural beauty on display. That means makeup that doesn't overshadow your features–but does enhance them. Generally speaking, it's makeup that doesn't wear you. A great place to start is with a healthy, fresh-looking complexion. Choose moisturizing products to build your base and go with lightweight textures over matte, heavier ones, where possible.
Your no-fail toolkit:
48h hydrating primer to smooth and prep your canvas.
A pretty natural hydrating foundation that leaves a natural, luminous glow on the skin.
Step 2 - Strong Brows
Before we had the term nude beauty, we had all-American beauty, which was all about celebrating wholesome-looking natural makeup. Think Christie Brinkley and Brooke Shields in the 80s (search them up to see for yourself!), and Ralph Lauren ads after that. Fast forward to today's glam interpretations of the nude makeup trend, you'll see they share timeless characteristics, like strong brows to anchor the nude makeup look.
Your no-fail toolkit:
Natural brow pencil that gives fine texture and a natural, blendable brow effect.
Clear lash brow gel to set hairs perfectly in place.
 Step 3 -Embrace Brown
The color almost exclusively associated with nude makeup is brown–and for good reason. The shade is universally flattering. Its shade range ups the versatility factor, too. From lighter tones like beige, honey and taupe to richer ones like chestnut and espresso, it serves as the ideal replacement shade for black. Use brown eyeliner to add subtle definition to your nude makeup look, and an eye shadow palette that gives nudes/brows the starring role.
Your no-fail toolkit:
Brown liquid liner that stays put and defines eyes naturally and beautifully.
Nude eye shadow palette that features universally flattering nude eye shadow colors.
Step 4 -Contoured Cheeks
The surefire way to add depth and dimension to your nude makeup look is by contouring. It's essentially a tried-and-true makeup technique that can enhance or downplay areas of the face. Use darker shades to contour and add depth to areas like your cheek hollows, around the hairline areas of the face, and down the sides of your nose. Apply lighter highlight shades to elevate areas like your cheekbones, the center of the nose and the middle of the forehead and the chin.
Your no-fail toolkit:
Contour duo palette in light or dark to highlight and contour the right way.
Step 5 - Nude lips
The secret to the best nude lip shade is one that matches the inside of your bottom lip. No nude makeup look is complete without a natural shade that can be passed off as your own, and maybe slightly better. Define your lips with a nude lipliner and then add some polish to your pout using a shade of gloss or lipstick that's within one or two tones of your inner lip color.
Your No-Fail Toolkit:
matte lipliner, its texture is creamy and goes on smooth–and it lasts!
Extreme shine gloss for volume, shine and a natural glow.
The perfect nude lipstick for a satin lip finish
you might also like...
Milky skincare products are all the rage right now but do you know why? From skin smoothening effects to calming benefits, learn why you should add this milky moisturizer to your skincare routine today.
We've fallen hard for natural nude makeup! Master the art of natural nude makeup with our easy-to-follow steps and product tips and tricks. No-makeup makeup has never been easier to achieve.