Hot Summer Makeup Trends You Don't Want To Miss!
August 15, 2022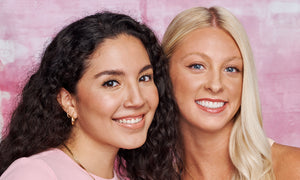 Hottest summer makeup trends you can't say no to
Summer beauty should feel fresh, fun and effortless so we've made it easy by rounding up the hottest makeup trends and products to try now. Get ready to turn your summer makeup vibes up a notch with these trend-focused summer makeup looks.
Forget hot girl summer, we're more excited about hot summer makeup! The patios are calling, the beach is beckoning and your summer wardrobe is sorted. All that's left is all the summer makeup trends you've been dying to try. The good news is there's no shortage of summer makeup inspo from celebs, influencers and makeup artists on TikTok. But the even better news? We've rounded up the hottest summer beauty takes and paired them with the best products to give you the compliment-worthy looks that won't break the budget.
Get ready to turn your summer makeup vibes up a notch.
Glazed Doughnut Skin
This celeb-inspired summer makeup trend has been bubbling for a while but let's just say it's peaking for makeup trends in summer 2022. We have the likes of one Hailey Bieber to thank for that. This trend is really about flawless, dewy skin that takes on a glazed effect when the light (or camera) hits just right. It also gives your skin an instant VIP status, like you've just come from a facial.
Get the Look:
Prep your skin with the help of a hydrating primer to create the perfect, seamless base for your summer makeup to grip as the summer heat is notorious for melting off makeup. Next, keeping in the theme with moisturizing products that create a second-skin effect, follow up with this hydrating foundation that looks like your natural skin, only better. Less is really more when it comes to this skinminimalism-worthy summer makeup trend.
Golden Hour Glow
This gorgeous, golden summer makeup trend is about so much more than good lighting and a popular hashtag. To achieve that perfect glow cast on your skin that's reminiscent of a beautiful sunset, you'll want to assemble a bronzer beauty wardrobe as this look is all about bringing dimension and light to the skin, using warm, golden tones.
Get the Look:
Once you've perfected your skin's base, getting a golden hour-worthy glow is actually pretty easy. The first step is doing a subtle bronze contour on the skin using this cult-fave bronzer palette. Simply swipe your desired shades onto the cheek contours, temples and along your jaw line. The beauty of this palette likes in the perfect, warm shades that don't read orangey on the skin. Once your contours are in a good place, it's time to bring out the highlighter. Dust this baked golden highlighter onto the apples of the cheeks and tip of the nose for a wash of warm sunlight for your face.
Graphic Eyes
One of our fave summer makeup trends has to be bold, graphic eyes in summer-worthy colors (read: punchy and pigmented). Call it the lingering Euphoria effect, but we're still not over the blues, greens and overall jewel-box eyeshadow and liner tones the show put on the map. Whether you prefer a wash of shadow or want to focus on one graphic shape, like the underlining trend of using a bright liner just along the lower lashline, eye makeup has never been this fun.
Get the Look:
Hot tip: this bright punchy shadow palette is your one-stop-shop for this season's hottest summer eye trends. You can swipe one bold shade over the lids, use it as a graphic eyeliner by mixing the powder with fixing spray or use it to create a watercolor-inspired smoky eye using two or three shades together. Even if your plans don't include the beach, this palette brings all the heat you'll need this summer.
Juicy Fruit Lips
The return of Y2K everything may have ushered in glossy lips as a summer makeup trend for 2022, but really, nothing says summer makeup-worthy more than glossy lips in shades of juicy fruits, like watermelon, raspberry, melon orange and cherry. Our love for glosses runs deep in the summer and there's no shortage of formulas and textures to stash in your summer tote this season.
Get the Look:
A lipgloss that smells good enough to eat, only costs a couple of bucks and makes our kissers look cute? Sign us up. Thanks to the jelly-like texture in these mouthwatering lipglosses, your lips will be treated to the perfect amount of shine, moisture and shimmer with just one quick application. The squeeze-tube bright and happy packaging is just the icing on the cake. 
you might also like...
These are the summer lip combos trending on TikTok. From the perfect nude lip to a vinyl glossy cherry pout, we've rounded up the best lip looks of the season.
Milky skincare products are all the rage right now but do you know why? From skin smoothening effects to calming benefits, learn why you should add this milky moisturizer to your skincare routine today.