Must-Have Makeup Tricks to Hide Your Puffy Eyes
June 24, 2022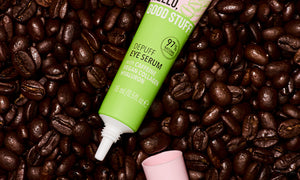 Here's how to actually hide puffy eyes with makeup
Pop quiz: Would you rather (not have) to deal with puffy eyes again or never get another pimple? If you answered the former, this article is for you. How to fix puffy eyes with makeup may be one of the most commonly searched beauty questions on TikTok–and the biggest beauty gripe living rent-free in your head–understandably so. Once they appear, they're super hard to unsee. Sure, under-eye bags can feel like a major beauty bummer but we're here to tell you that doesn't mean all hope is lost if you have them, especially if they're from a late night out and not a genetic trait (thanks, mom).
Luckily for you, we've rounded up the best tips on how to minimize puffy eyes with makeup! That's right, no surgery or costly eye treatments required.
Prep your skin
Turns out your grandma was onto something when she put frozen spoons underneath her eyes. Cold compresses are a great hack for treating skin swelling in a pinch. Apply them to your under-eye area for a few minutes to help constrict blood vessels. The pressure also encourages lymphatic drainage–a win-win!
Tip: Keep a depuffing eye serum that has caffeine in your fridge and apply it over the eye area to instantly depuff, restore moisture and prep your skin for applying makeup for puffy eyes.
Pick up a good concealer
Hands down, the best beauty line of defense against puffy eyes is concealer. Go for a waterproof, creamy formula that brightens and smooths the delicate skin around your eyes. This vegan, alcohol-and-oil-free formula won't settle into fine lines or budge throughout the day. If you're also dealing with the one-two punch of dark circles and puffy eyes, choose a peachy-toned shade as that will help banish dark circles that tend to be blue or purplish in color.
Highlight and contour
You don't have to be a makeup magician to know that highlighting and contouring can do wonders for playing up key features and minimizing others. The same is true when it comes to learning how to minimize puffy eyes with makeup. The general rule is to opt for matte formulas over shiny ones, which will help to detract from the puffiness situation.
After you apply concealer, go ahead and swipe this translucent matte brightening powder underneath your eyes, which will subtly brighten without drawing attention to the area. Then, use a brown matte shadow (we love this works-on-all nude eyeshadow palette) to contour your lids and area below your lower lash line to create dimension, which will also dial down the puffiness factor in a big way.
Use white to bring light
Another time-old fave eye-brightening trick to try when considering makeup for puffy eyes is white eyeliner. When applied to the waterline, it enhances the whites of your eyes and perks them up ever so slightly. Be sure to use an eye-friendly pencil so as not to irritate your eyes and contribute to the puffiness problem. This creamy formula glides on smooth and is paraben-free.
Go for bold (brows and lashes)
One of the easiest makeup tips for puffy eyes is also a lesson in distraction. One way to get people not to notice your puffy eyes? Bold brows and look-at-me lashes that will draw the focus up and where it matters most. Easy peasy, right? Achieve a statement brow with the help of this brow pencil that features a built-in brush. Outline, define and fill in brows using feather-like strokes for best results.
In keeping with our makeup for puffy eyes mantra of moving the focus up, repeat after us: curled lashes are your friend. You can't go wrong with this curling and volumizing mascara that will bring the drama to your lashes and leave you wondering, puffy eyes who? We don't know them.
you might also like...
These are the summer lip combos trending on TikTok. From the perfect nude lip to a vinyl glossy cherry pout, we've rounded up the best lip looks of the season.
Milky skincare products are all the rage right now but do you know why? From skin smoothening effects to calming benefits, learn why you should add this milky moisturizer to your skincare routine today.