Setting Your Makeup: Fixing and Setting Sprays Are The Summer Essentials You Need Now
July 05, 2022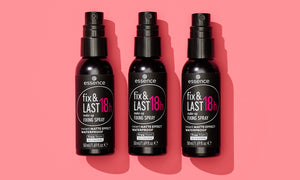 Summer-proof your beauty routine with these must-have setting and fixing sprays
Locking in your summer makeup look with fixing and setting sprays is the pro-worthy trick that couldn't be easier to achieve. Afterall, there is so much to love about summer beauty but also so much to loathe, especially when it comes to makeup meltdown (a.k.a. slippage). That's right, you spend all that time perfecting your summer glow, sleek liner and look-at-me lashes all have to have it slip off throughout the day. And if you're prone to oily skin, this is your reality year-round. Thanks to the summer staples of humidity, sun exposure, sweat and excess moisture and sunscreen, just how is a girl supposed to look fresh for hours on end? Enter fixing spray and setting spray. These magic beauty elixirs aren't just for celeb makeup artists, either. We're serving the tea on the best fixing sprays that work and the best setting spray to use and when so you can set your makeup and then forget it - no touch-ups required.
What is the difference between fixing spray and setting spray?
Fixing spray locks your makeup in place and helps it to last longer than it typically would. Setting spray is similar in that it sets makeup into place, but it also acts like hairspray for your face by forming a uniform layer that helps prevent makeup from slipping.
Since not all fixing sprays and setting sprays are created equal, it's important to choose the right one for every occasion.
Best for a pool or beach day: fix and LAST 18h make-up fixing spray
There are few beauty products up to the task of standing up to beach or pool-side heat, humidity and moisture yet this formula is one of them. This 18-hour make-up fixing spray works overtime to help your makeup stay put and thanks to its cucumber-extract infused formula that's also free of oil and alcohol, it leaves skin feeling super refreshed and cool–making it the perfect beach and pool-side companion. As if you needed another reason to buy this now, the fast-drying formula was even the winner of Allure Best of Beauty Steals last year.
Three fixing spray hacks we love
Did you know you can change up the texture of your fave eyeshadow in an instant by mixing it with a fixing spray? Simply mist your makeup brush (applying it directly to powder isn't the most hygienic no matter what TikTok tells you!) with fixing spray before dipping into your powder formula to switch up its look and intensity. This can even work with turning your black eyeshadow into an eyeliner that does not budge.
A pro tip for using setting spray? Applying it both before and after your makeup. Setting sprays contain skin-priming ingredients that can act as a flawless veil for your skin so if you don't have a primer on hand, try misting a setting spray on your skin instead.
We've all been there, about to leave the bathroom after our makeup routine when we notice some powdery areas where our concealer or foundation didn't quite blend into our skin right. Fixing spray can come to the rescue here, too. Just spritz some onto a beauty blender and buff out those areas for a seamless skin finish.
you might also like...
Milky skincare products are all the rage right now but do you know why? From skin smoothening effects to calming benefits, learn why you should add this milky moisturizer to your skincare routine today.
We've fallen hard for natural nude makeup! Master the art of natural nude makeup with our easy-to-follow steps and product tips and tricks. No-makeup makeup has never been easier to achieve.