Lip Gloss Nails Are About To Blow Up In 2023
February 23, 2023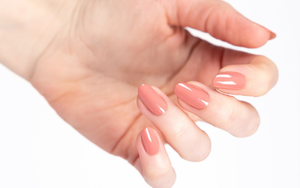 Salon nails, who? We've found the perfect nail trend that you can do at home.
Move over glazed donut nails, lip gloss nails are where it's at for 2023. The manicure request on everyone's lips right now? Lip gloss nails, which are honestly exactly how they sound. Think semi-sheer high-gloss color that makes your nails look low-key flawless. Finally an alternative to the elaborate nail art we've grown to love for its boldness but loathe for its difficulty factor. So why are lip gloss nails trending on your TikTok FYP all of a sudden?
All signs point to Jennifer Lopez's nails at the recent red carpet premiere of her new romcom Shotgun Wedding. Her long-time nail artist, Tom Bachik, is credited with creating a glow-up version of a lip gloss manicure by adding a sparkly tip. While achieving lip gloss nails are easier than you think, there are some basic rules to follow if you want to succeed in getting this flawless nail look right. And no, you don't need to go to a professional to pay the big bucks.
Follow these tips to get the lip gloss manicure trend at home.


Start With Healthy Nails
All good lip gloss manicures have this in common: healthy nails to serve as the perfect paint canvas. Give your nails some at-home-friendly TLC. Swipe on some cuticle oil to moisturize your nail beds and the skin surrounding them. Next, buff out any nail ridges so your nails are even and feel smooth to the touch. If they look dull, buff your nails with a polishing block to help restore their natural shine. The lip gloss manicure is all about a uniform flawless look so ensure you cut and file your nails to the same length. The great thing about this trend is that any nail length goes so whether your nails are long and almond-shaped or short and squared, you can achieve the lip gloss manicure look.


Start Your Polish Application With This…
No matter how tempting it is to skimp on a few steps for your at-home mani, please don't (it shows in the finished look). It's always a good idea to apply a colour-shield base coat and it's non-negotiable when it comes to a good lip gloss manicure. This look is all about high gloss so adding it in layers makes sense. If your nails take on a yellowish hue from your polish, chances are you're not using a base coat. A base coat not only gives you a glossy base to work with, but it also helps to extend the wear of your polish. So take an extra minute and swipe away!


Gel Formulas Only, Please
The number one way to get a pro-worthy lip gloss manicure at home is with gel nail polish. It's gorgeous, glossy and will dry quickly ensuring you have a flawless finish. This fan-fave gel polish formula features a patented, broad "double-touch" brush for an application that's as good as a pro's. It also dries in 40 seconds so you won't be waitinglong for your lip gloss nails to be perfected.


How to Choose a Lip Gloss-worthy Mani Shade
Lip glosses come in a variety of shades but for the perfect lip gloss manicure, specific shades matter. Aim for shades in the nude, baby pink and peach family. The goal is soft and subtle and what you would apply on your lips for a natural glossy look. We've rounded up the top color contenders for perfect lip gloss nails every time: Sugar Blush (a dreamy baby pink), I'm Peachy Today (you guessed it, a soft peach) and But First, Toffee (the perfect nude).


Topping It Off
The cherry on top of a perfect lip gloss manicure is the final glossy effect you can only get with a really good top coat. Think of your top coat as your lip gloss nails insurance policy against chipping and cracking. This formula will amp up the shine factor and it dries quickly. Be sure to apply a thin coat (it prevents bubbles) and use it to touch up your nails a day or two later for a fresh look.
you might also like...
The hottest nail trend of 2023 is lip gloss nails. If they're good enough for Jennifer Lopez, they're good enough for us. Here's how to get the best lip gloss manicure at home with these easy tips and tricks.
The biggest makeup trends to watch out for in 2023 are here. From boss brows to statement shadows to gorgeously glowy skin and more, check out the best in beauty trends for the year ahead.