Your Guide to To The Right Eyeliner For Every Occasion
January 26, 2022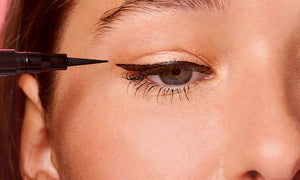 We're showing you how to achieve #eyelinergoals for every day.
Eyeliner is the beauty stuff of legends, from back in the day (think Queen Nefertiti to Cleopatra) to today a la Ariana Grande and Adele. With it, you can be sexy, subtle, flirty and rock and roll–choose your own beauty adventure. But not all formulas are created equally or one-size fits all for every occasion. Not to worry, we did the homework of what formulas work for when so you don't have to.
Here's how to find your eyeliner fit for every occasion.
Be A Smoke Show
Eyeliner pencils like the Essence Kajal Pencil easily score highest for being the most versatile type of liner. You can apply it to enhance your lash line for a natural-but-better look, blend them to your heart's content to achieve the sexiest of smoky eye looks and sharpen them so they're always precise and fresh. We love to use this affordable pencil to blend and smudge out over our lids before applying eyeshadow overtop. All three shades are also perfect for applying along the waterline because it goes on super smooth and free from parabens, alcohol, fragrance, preservatives and also cruelty-free and vegan, and won't irritate your eyes.
Winged Liner for the Win
Ever notice how perfect some cat eyes look while yours feel like a constant work in progress? It's all in using the right technique with the right formula. It's no wonder people resort to all sorts of hacks to get it right, from face tape to stencils.
If you're a winged-liner or cat-eye novice, it's a good idea to start with an outline using a super creamy liner like Essence Extreme Lasting Eye Pencil as a base. That way, it's like a practice run that will make it easy to correct any mistakes. If you want to take your winged liner game to the next level (and we know you do), now it's time to grab a super longlasting felt-tip liner pen to lock in your look. Simply take the Essence Superfine Eyeliner Pen and trace it overtop of your guide for a flawless finish. Be sure to let it dry to set.
Go Graphic
Whether you're trying the reverse cat eye as seen on TikTok or getting creative with your liner design and colors after watching Euphoria, graphic liner is having a moment. This is where waterproof and super longlasting formulas come in. The pro trick to creative line drawing? Use a creamy formula that effortlessly glides onto skin like Essence Longlasting Eye Pencil. It's self-sharpening so you don't have to worry about pushing pause during your artistic liner application. If you want to amp up that staying power even more, another trick is to apply a liquid longwearing formula like Essence Super Precise Eyeliner overtop of any graphic shapes or angles to lock the design in place. Its extremely fine brush applicator is the perfect tool for getting precise lines and navigating small areas like the inner eye corners.
Eyeliner Cheat Sheet
Use this handy cheat sheet for remembering what eyeliner to reach for and when.
Best for: enhancing your natural lash line and blending over lids to achieve a smoky eye. Its classic formula and affordable price tag equals the best bang for your buck.
Essence Extreme Lasting Eye Pencil, $4
Best for: Everyday use where eyeliner is on display whether you're applying a bold winged look or tightlining along your upper and lower lashlines. It's silky, longlasting and packs a major color payoff punch.
Essence Super fine Eyeliner Pen, $4
Best for: A quick cat eye that looks like you spent way more time on it than you actually did. Also available in waterproof, the slim felt-tip pen applicator makes precise work a cinch–even for beginners.
Essence Long lasting Eye Pencil, $2.50
Best for: A color-intense finish that lasts. Use any of the three shades for a dramatically lined eye that stays put. This pencil is also waterline-worthy, thanks to its easy glide-on application and retractable feature that keeps the liner tip fresh.
Essence Super Precise Eyeliner, $3
Best for: A budge-proof eyeliner that washes off easily at night–so there's no racoon-eye effect come morning. This liquid liner will also outlast others since it has a roomier-than-usual tube and a little goes a long way. Trust us when we say the avg 4.8 rating review speaks for itself.
you might also like...
Cloud skin is the viral makeup trend you need to try. If you're looking for ethereal, dreamy skin that's achievable with a few products, cloud skin is for you. Here's how to get it right.
See ya later, touch-ups! These lipstick-lasting hacks are where it's at