6 Beauty Tips For Being On Camera In Meetings
October 04, 2022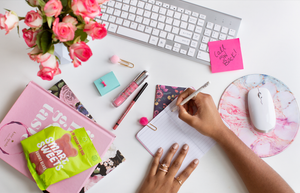 Finally, an easier way to get camera-ready for your next Zoom call
Want to know the best makeup tips for video calls? You've come to the right place. Let's just say we've come to know our camera-on face intimately over the past couple of years and in doing so, have picked up some key Zoom makeup tips along the way. And relying on built-in filters isn't one of them. The past couple of years have given us all the training we need to be prepared for camera-on moments, both planned and not. Here's how you can come to love your screen's reflection (yes, really!).
Tip #1 - Find Your Best Light
Before we get into the best makeup for video calls, there are a few rules about virtual meeting looks that when put into practice, will go a long way. The first and most important? Find your best light. If your work set-up has any sort of natural light situation, place yourself so that you're facing it and the natural light is highlighting your face. Just be sure you're not positioned in front of a window with your back turned to it, which means you'd be backlit and appear shadowy and dark. And if fluorescent or harsh indoor lights are your reality, try not to sit directly under them so that you're cast in the shadow.
Tip #2 - Less Is Not More
The next rule to keep in mind for acing makeup for Zoom meetings? Less is not more when it comes to makeup tips for video calls. The built-in cameras on our computers tend to wash out our complexions (and even subtle makeup) meaning we'll need more product than we think. If you're going to the trouble of applying makeup daily, make sure it works for you by ensuring it's noticeable on camera. That means erring on the side of punchier colors, a few extra coats of mascara, a strong brow and noticeable lip color.
Tip #3 - Make Your Skin Standout
We get it, looking at yourself on camera all day is a surefire way to notice tiny flaws that you normally wouldn't. If you've ever found yourself fixating on a small pimple or bit of redness in your complexion instead of the person (or team!) on your screen, you're so not alone! It's no secret cosmetic surgeries reportedly were on the rise over the past two-plus years thanks to this very reason. There's an easier way to have skin that's camera-ready and that's a good foundation that brings light and brightness to your complexion. We suggest a medium-coverage lightweight foundation for best results. To get the most from your foundation, don't skimp on your moisturizer and sunscreen (yes, even at home you'll need an SPF to protect your skin, especially if you're sitting next to a window).
Tip #4 - Define Your Eyes
We're just going to go ahead and say it: smoky eyes are not your Zoom makeup friend. They just make your eyes look too dark and shadowy. Instead, aim for simple yet purposeful definition. Whether it's tight-lining with a great long-lasting pencil or a swipe of precise liquid eyeliner across your upper lashline, this will ensure you look done, but not overly so. Dial up your gaze that much further with a swipe of neutral shadow to your lids and a few coats of volumizing mascara.
Tip #5 - Color Your Cheeks
Even if you don't normally wear blush every day, here's why you should make an exception for your on-camera meetings: It'll help combat the washing-out effect of your camera. You don't have to go all out with a contour and highlight, either. Simply swipe a rosy blush over the apples of your cheeks to do the trick. You'll be left with a natural-looking flush that instantly makes your skin look healthy and vibrant.
Tip #6 - Keep Your Lip color Next To Your Computer!
Even if you can only do one thing to put your best Zoom-ready face forward, make it a bright lippy. There is no easier way to quickly lift your look and appear polished. You'll need something you can apply and not have to worry about checking for smearing or fading so go for a matte, long-wearing stain. The only thing you'll have to deal with is the compliments coming your way. You're welcome! 
you might also like...
We're spilling the tea on achieving a flawless makeup base using our top-rated makeup products.
You don't have to break the bank for a full face of makeup that looks expensive. Here's how to achieve the best full-face of makeup for under $50!