Here's How To Bronze And Contour Like A Pro Using One Palette
January 24, 2022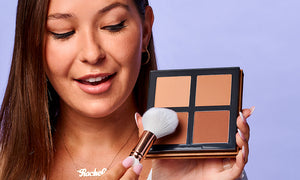 Give your complexion a sunny wakeup call with these bronzer hacks.
Beautiful, bronzed skin doesn't just have to be our summer staple. Unlike our LWDs, bronzer works for every season and frankly, gives our skin life during the colder months. There are so many reasons to add bronzer to your year-round beauty routine but our faves are to give our complexions a gorgeous golden glow and killer contours–no Snap filters required.
If you're new to bronze-goddess status, have no fear as we're covering all of the tips, tricks and goods for bronzing and contouring like a pro with the Essence Sun Club Matt Bronzing Powder, $11.
Choose The Right Shade
For a bronzed effect that looks natural (read: not obviously faux), you want a matte shade sans sparkles! that doesn't look too orange or brown on the skin. A good starting point is to err on the lighter side and then go darker as needed. If you have a fair complexion, start with the lightest shade available. More of a medium-to-dark skin tone? Reach for the deeper shades.
Use a Light Hand
The desired look for wearing bronzer the right way is to be sun-kissed not sun-scorched, so how you apply it matters. Reach for a medium-sized powder brush that's fluffy so you can blend the product in and help you better control your application. A giant powder brush with stiff bristles will just deposit too much onto the skin at once. Apply your bronzer to the high-plane areas of the face that the sun naturally kisses, like the cheeks, forehead and across the nose.
Contour Like A Queen
Contouring doesn't have to be intimidating contrary to what TikTok or photos of Kylie Jenner tell you. The pro-worthy shading technique is amazing for chiseling your cheekbones, sculpting your nose and defining your jawline.
The trick for getting it right is just a matter of following a few easy steps. First, map out your product placement. You'll want to concentrate your bronzer on some key areas of the face like the sides along the bridge of your nose, the areas of your forehead above your brows (towards the hairline) and most importantly, along the hollows of your cheekbones and temples.
Next, taking a small or medium-sized contour brush, apply your bronzer onto the areas you mentally mapped out. There should be a distinct shade difference. Next, you want to buff the product into the skin using a large fluffy brush to help diffuse bronzer and achieve a natural contour effect. Follow up with highlighter on areas like the tops of your cheeks, the center of your nose and middle of your forehead to make your contour stand out even more.
Tip: Bronzer is a BeautyTok fave and you can find so many hacks to test out with your palette. Whether it's underpainting or making your powder bronzer into a liquid with fix and LAST 18h make-up fixing spray. The bronzing possibilities are endless!
The Bottom Line
You don't have to go down south for the perfect bronze. Just pick up the Essence Sun Club Matt Bronzing Powder in your preferred golden shade and let its subtle coconut tropical scent and amazing vegan, cruelty-free formula (that's also free of alcohol, oil, parabens and fragrance), unleash your inner-and-outer bronze goddess vibes.
you might also like...
We're spilling the tea on achieving a flawless makeup base using our top-rated makeup products.
You don't have to break the bank for a full face of makeup that looks expensive. Here's how to achieve the best full-face of makeup for under $50!