Anatomy of a Viral TikTok Mascara: Essence Lash Princess False Lash Mascara
January 24, 2022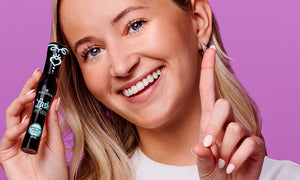 Get ready to bat a thousand with this fan-fave mascara
Hands up if mascara is your desert island beauty product. Us, too. Without it, we just don't feel complete (well, you know!). Cue: mascara our love story. And just like we spend our lives searching for "the one" the same is true for our quest for the perfect mascara that checks all our boxes for volume, length and staying power. Now, add to that wish list a bargain price tag of $5 and you have the makings of a viral TikTok-approved mascara.
A viral mascara for only $5 you say? Miracles do come true. If you aren't one of the many who have already tried Essence Lash Princess False Lash Mascara, we're about to blow your mind. One of these false-lash effect formulas sells every five seconds for a reason. Its dramatic volume and sculpted length rival any pricier mascara meaning you could get six of these magic wands for the price of one designer brand. The formula even has all the benefits you can feel good about: it's cruelty-free, vegan, ophthalmologically-tested and free from parabens, oil, alcohol and fragrance.
Why People Really Go Crazy For This Mascara
Whether you're scanning for the Essence Lash Princess False Lash Mascara 'before and afters' on Reddit, TikTok or IG, one thing is clear, people are, like, really into this mascara. Here's why it's a regular fixture on the #viralmakeup hashtag on TikTok. It teams a classic conic fiber brush with a formula that lengthens and defines (think falsie-level flutter and a fast-drying finish). And the $5 price tag is the sweet cherry on top.
What The Pros Have To Say About This Formula
When they're not gushing about the dramatic effect this mascara gives in just a few coats, beauty lovers have discovered some serious pro-level tips when using it. Let's start with the tapered brush. Vloggers have discovered that its classic size doesn't poke you in the inner eye corners (creating a hot mess to clean up afterwards) and also allows you to get super close to the lashline so you won't experience those gaps, which can really be noticeable on fair lashes. Another hot take on a flawless application is to remove excess product from the wand before you apply it so you can layer to your heart's content.
How to apply Princess Lash Mascara for your best lash look ever
Whether you're going for a smize or full-on doll-like drama, the versatility of this mascara is something to truly behold. For an are-they-or-aren't-they real look, be sure to swipe the formula onto top and bottom lashes, wiggling the brush back and forth to deposit the formula evenly. To dial up the drama even more, just add more coats. The beauty of this non-clumping mascara is that a little goes a long way–music to our lash-loving ears.
If You're Not Lash Wardrobing, Are You Even A Mascara Lover?
We express ourselves with our clothes so it makes sense that we'd do the same for our beauty products. From feeling flirty to sexy to classic, sure, there are different jean styles for that and now, there are mascaras for that too. Enter lash wardrobing. Think of it like building a collection of different looks, from everyday staples to fun trend pieces. For curly lashes one day, opt for a curling wand like Essence Lash Princess Curl Mascara. To dial up the volume for a night out, reach for Essence Lash Princess Sculpted Volume. With five formulas in the lash Princess family, and at $5 a pop each, trying out different lash personalities never looked so good!
you might also like...
We're spilling the tea on achieving a flawless makeup base using our top-rated makeup products.
You don't have to break the bank for a full face of makeup that looks expensive. Here's how to achieve the best full-face of makeup for under $50!