The New Hybrid Lengthening, Curling And Volumizing Mascara You Have To Try To Believe
January 26, 2022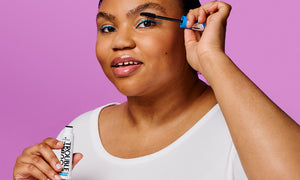 Meet your newest mascara obsession: Double Trouble Mascara.
We get it, you need another mascara like you need that triple venti vanilla latte most mornings. Never mind that mascara is probably your desert island product, your beauty ride or die. What if we told you this mascara just hits different? As in two-for-one kind of different? Now that we have your attention, we'd like to formally introduce you to the future of mascara, where innovation meets the everyday.
Here's the hot take on the new Essence Double Trouble Mascara.
What the product page says:
Essence Double Trouble Mascara is bold, daring, and has a double-sided brush for a lash look that's got it all. The applicator has two sides, an elastomer brush and a fiber brush for extreme definition, curl and length!
Why You'll Love It:
An applicator with two sides is actually genius! How many times have you tried to mix and match your mascaras to get one mind-blowing look? Us, too. And judging by the 127 million hashtags for #mascarahacks alone on TikTok, we're thinking this mascara is onto something major. Now, you can get a bespoke lash effect the easier (and cheaper) way. Whether your lash MO is lengthening, volumizing or definition –there's no beauty MacGyvering required to get it all with this magic wand.
How It Works
This double-feature wand combines two styles of brushes on either side, so depending on your desired lash effect, you can use one side or both. The elastomer side has shorter bristles to give your flutter a voluminous curled effect while the other side boasts a substantial fiber brush for definition and length. This side also works well for bottom lashes, for both lengthening and definition.
Tip: If your lashes are super straight or even turn slightly downward, go ahead and use a lash curler before applying this formula for best results.
The 411 On The Formula
This inky black mascara, also available in a waterproof version, brings all the drama in a formula that's cruelty-free, ophthalmologically-tested, vegan and free from alcohol, oil, parabens and fragrance. It glides onto lashes without clumping or flaking, meaning you can build your coverage to your lash preference whether it's one coat or a handful. Thanks to its impressive staying power, you won't have to worry about any smudges on your lids or lower lashes throughout the day.
What The Reviews Are Already Saying
With claims like, "coats every single hair" and "will save you time and money", this mascara really does double down on value and benefits. And for the $6 price tag, that means you don't have to sacrifice one for the other. This formula truly does offer the best of both mascara worlds.
you might also like...
From a glowy and gleaming complexion to bright summer lips and cheeks, and more, we've got your summer makeup look on lock. Here's how to channel your fav summer It-Girl makeup routine.