Meet Your Essential Beauty Travel Kit For 2022
July 05, 2022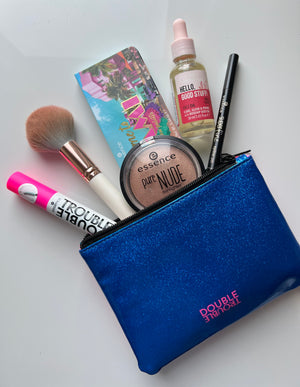 Don't leave home without these vacation makeup must-haves
Your flights are booked, your Airbnb is Insta-worthy and all you have left to do is figure out your vacation makeup vibe. Sounds easy, right? Not so fast. There are some tricks to know when it comes to getting the most from your vacation makeup must-haves. So, whether you have limited real estate in your carry-on or a high-maintenance beauty routine, we've got your beauty essentials for vacation covered.
First things first, you'll want to get clear on your vacation makeup priorities in order to be able to achieve them. For instance, if your vacay includes chill beach days and fun nights out, you'll want to pack vacation makeup that's appropriate for that. The same goes whether your trip is to someplace low-key where minimal makeup works best, or a city where you'll want to put your best face forward with some bolder beauty essentials. This is what we call right-sizing your vacation makeup.
Here, we're laying out the must-have beauty essentials for any vacation–no matter what your itinerary includes because we know how hard it is to edit down your wardrobe to fit into your travel bag and you don't need the added drama of whittling down your makeup bag without guidance.
And we get it, you've already sorted your skincare travel essentials situation so what we're about to say shouldn't be a shocking beauty revelation. Please don't ever leave home without your SPF and cleanser. Okay, now let's skip to the good part.
Take this for face value
When vacation mode is activated, so is the desire for any high-maintenance beauty routine. So what's a girl to do when she still wants to look her best? Grab some multi-use products, of course. One of the best beauty essentials for vacation is a hydrating foundation that doubles as a tinted moisturizer. Why? It's lightweight, you can build your coverage and it packs skincare benefits, thanks to ingredients like hyaluronic acid and aloe vera (which is also great if you had a little too much fun in the sun). Want sheerer coverage? Simply mix a few drops with your moisturizer. The travel-ready and under 100ML size and 36 available shades make this product a pack-worthy no-brainer.
Wow brows on the go
We don't know about you but we just don't want to fuss with our brows too much while we're on vacation. But we also don't want them to look unruly and untamed, either. Enter this travel-friendly brow kit that allows you to groom your brows on the go, thanks to the handy little brush and mini soap-like formula that will give you feathery, sculpted brows that look natural, instantly.
Waterproof mascara or bust
This vacation makeup recco won't surprise any beauty lover (hello to all the desert island mascara lovers only!) but hear us out on the formula front. The last thing you want to be worried about whether you're poolside or on a bachelorette getaway weekend is travelling mascara that no filter on Instagram can fix. So whether your fave formula is the one and only False Lash Effect, Double Trouble or I Love Extreme Volume, be sure to add the waterproof versions to your travel beauty bag.
Line 'em up
Eyeliner may not come to mind first as a vacation makeup essential but we're here to tell you otherwise! Besides the fact that it takes up virtually no space, it is the single most important product for taking your look from day to night, in an instant. We love this creamy, glide-on liner for tracing our upper and lower lash lines as well as the waterline for added drama. You can even do a cat eye, which makes this long-lasting pencil a beauty bag MVP.
A palette equals variety
One of the most worthy vacation makeup musts from a beauty POV is a hardworking palette. What do we mean by hardworking? For one, it means you can use it for multiple purposes. Consider a multi-use nude palette that can double as blush, eyeshadow and bronzer–all in one. You can blend the bronzy and shimmery shades together or use them individually, during the day or at night for a serious glow-up.
Shine or gloss
We can't talk about beauty essentials for vacation without paying some lip service to gloss. An ideal formula works for day or night, isn't sticky so you can wear it on the beach and comes in a rainbow of shades for every occasion, like clear or soft peach for day and hot pink for night. Thankfully this gloss checks all the above boxes. The best part is, you can stash a few of these in your carry-on for amazing variety.
you might also like...
Milky skincare products are all the rage right now but do you know why? From skin smoothening effects to calming benefits, learn why you should add this milky moisturizer to your skincare routine today.
We've fallen hard for natural nude makeup! Master the art of natural nude makeup with our easy-to-follow steps and product tips and tricks. No-makeup makeup has never been easier to achieve.