TikTok Beauty Trends 101
October 20, 2022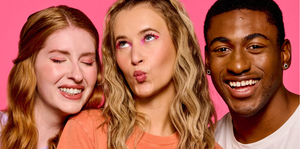 We're bringing you the best of BeautyTok with our top five beauty hacks, trends and products
TikTok has truly changed the way we think about and approach beauty. It's a one-stop-shop for all the beauty trends, hacks, product reviews, do's and don'ts and how-tos. But what makes it so great is also what makes it cluttered and hard to navigate at times. If your FYP algorithm needs work showing you the best of the beauty TikTok beauty trends, we've got you. We've filtered out the trends that are really worth trying so you can forget the rest. Our inspo? This TikTok right here.
Here are five TikTok beauty trends that are actually worth your time and energy.
Lifting Concealer Hack
Did you know there's a super simple concealer hack that gives your face a noticeable lift? Enter the lifting concealer hack, a.k.a the facelift concealer trick that's one of the latest TikTok beauty trends to go viral. Get the look of uplifted features with a few swipes of strategically-placed liquid concealer. Start with a lightweight concealer that's one shade lighter than your natural skin tone (it's a must for the optical illusion effect). Next, swipe it in a diagonal line in four key areas: above the outer corner of your brow, your inner and outer corners underneath your eyes, the base of your nose towards your cheek contour and finally, the corners of your mouth extended out horizontally. For a how-to guide, check out this viral TikTok video. The end result? A lifted appearance–no surgery required!
Sunburnt Blush
One of the most searched makeup topics on TikTok is #sunburntblush. Thanks to celebs like Hailey Bieber who made the look even more popular, countless how-tos and products have been used to get the look that can be best described as a faux sunburn. Think naturally flushed cheeks that feature a wash of color on your cheeks, underneath your eyes and on your nose. Choose a rosy shade of a pigmented blush that mimics your actual skin flush color.
Contour Cheats
There is no shortage of TikTok beauty trends that are solely focused on contouring, which is the art of enhancing some features and downplaying others. It plays up your bone structure in a major way and it's the makeup trick the pros have relied on for years, well, until TikTok happened. Now, you can't scroll your feed without seeing some form of complex contouring. Well, we're here to tell you there's an easier way.
There are many products you can use to achieve the desired contoured-cheek-and-nose-effect. One is a concealer wand that's a few shades darker than your natural skin. This is useful for targeting your key areas, like the hollows of your cheeks and down the sides of your nose (hello, finger nose contour). The other is a softer-effect contour palette that makes for easier blending. The fastest way to find your product placement sweet spot? Feel for the areas underneath your cheeks that touch the tops of your teeth and swipe up from there. For your nose, apply contour powder or color down the sides of the nose and apply your normal concealer down the center, and don't forget to blend, blend, blend!
Overlining your Lips
Move over lip injections, there's a low-key way to get full, voluminous lips that doesn't require a derm appointment. Overlining your lips, also known as the O-shape lip liner hack, is a TikTok beauty trend that couldn't be easier to execute, seriously! Instead of using a lip liner to outline your natural lip shape, you're going to color outside of the lines instead. That means slightly extending past your natural lip line and creating an O-shape to your mouth, taking care to round out the Cupid's bow This creates the illusion of a super pillowy pout. Grab a good longwearing nude lip liner to nail this look in one easy step before applying a nude lipstick or gloss overtop.
Clean Girl Aesthetic
We can't talk about the best TikTok beauty trends without bowing down to the "Clean Girl Aesthetic" beauty trend, which is just a fancier way of saying no-makeup makeup look. While off-duty models inspired this trend back in the day, we're still here for the fuss-free beautiful look even if it looks a little more done. The good news? You can use the four above TikTok beauty trends to achieve this look–really! It's all about flawless and flushed skin, nude lips and features that stand out, like chiselled cheekbones and a defined nose. Add on the beloved viral TikTok mascara itself and a much-loved natural brow enhancer and you're all set!
you might also like...
These are the summer lip combos trending on TikTok. From the perfect nude lip to a vinyl glossy cherry pout, we've rounded up the best lip looks of the season.
Milky skincare products are all the rage right now but do you know why? From skin smoothening effects to calming benefits, learn why you should add this milky moisturizer to your skincare routine today.