The Perfect Winter Lip
January 19, 2023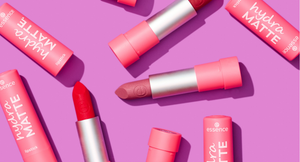 We found the GOAT winter lipstick colors–scroll down to find your fave
You've already got your cozy sweaters and your go-to mani shade, now it's time to find the perfect winter lipstick. Sure, some lipstick shades can be worn year-round but there's no denying the power of a deep berry or brick-red lipstick to keep your lips warm and toasty. It feels indulgent, special and a little extra – just what we need during the cooler months.
It's about that time to unleash your best bold lip. Are you ready?
The Best Berry
There's just something so seasonally perfect about a berry lip in winter. It's vibrant and happy and suits every skin tone. From cranberry to mulberry, choosing these jewel-like lip shades will wake up your complexion (hey, it's needed!) and give you the extra pep in your makeup step that serves as the ideal complement to your all-black winter wardrobe.
Our fave berry shade to try: Pink positive – the cranberry-like shade looks amazing applied straight from the tube or dabbed onto lips for a gorgeous stain.
Maroon
As if we couldn't love this perennial fave lipstick color any more–and thanks to Taylor Swift's Midnights we're thinking it will be on everyone's lips these days, maroon has our hearts this season. Reminiscent of a wine-stained pout (a fave of Selena Gomez), the decadent shade is vampy and dark and not for the faint of heart.
Our fave maroon shade to try: Bite Me If You Can allows you to go all out with its long-wear matte texture and highly-pigmented color. This shade is celebration-worthy in itself but we can't be mad at you for saving it for a special night out.
Brick red
There's a reason why brick red is the perfect winter lipstick shade. Maybe it's the Kylie effect or the fact that it's a little bit 90s and a whole lot more forgiving, thanks to better colors and formulas. We love this shade in a matte formula vs. a shiny one to keep it looking fresh. Try it with overlining and you won't be sorry you did!
Our fave brick red to try: let's chill– just like the name suggests this nude-but-better shade is sexy and sleek, thanks to its semi-matte formula that packs a high color payoff.
Burnt Sienna
Looking for a warm winter lipstick shade that's pretty and unexpected? Burnt sienna is for you. With soft orange undertones, this luxe winter lipstick shade gives pumpkin spice and everything nice vibes. It's also quintessentially autumn with its warm notes that pair beautifully with your fall wardrobe staples like leopard print, vegan leather, and suede.
Our fave burnt sienna shade: peach it! makes the case for orange-based lipstick. Swipe it on to warm up your complexion and spice up your lips.
True Red
We know, true reds can be worn throughout the year but that doesn't mean this classic should be excluded from our fave lipstick shades for winter. As we move through the festive months especially, nothing feels or looks as good as a true red, which has blue undertones and is cool vs. warm. Pair it with sleek, winged liner or even a naked eye to let it shine.
Our fave true red shade to try: Coral competence is a classic red bullet to reach for when you want lasting color in an easy swipe.
you might also like...
The hottest nail trend of 2023 is lip gloss nails. If they're good enough for Jennifer Lopez, they're good enough for us. Here's how to get the best lip gloss manicure at home with these easy tips and tricks.
The biggest makeup trends to watch out for in 2023 are here. From boss brows to statement shadows to gorgeously glowy skin and more, check out the best in beauty trends for the year ahead.