Cult Fave Extreme Shine Volume Lipgloss Just Got A Clean Makeover
January 24, 2022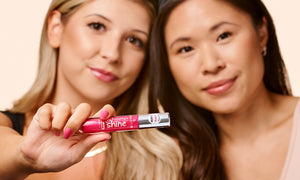 Y2K lipgloss is back and better (and cleaner!) than ever.
One of the biggest beauty trends from the spring '22 runways is straight from Y2K and we're not mad about it like we were about the comeback of super low-rise jeans. High-gloss lips in shades of berry, pink and nude ruled the runways of Giambattista Valli, Fendi and Nina Ricci proving that our spring beauty fortune favors the bold, shiny pout. Even Posh Spice herself got into the gloss trend launching her own clear Posh Gloss at the Victoria Beckham ready-to-wear spring/summer 2022 presentation. Thankfully you don't have to fork over the posh price of $28  to ace this old-school look.
So how do you make a beloved early-2000s trend modern? It's all about finding the right formula. While glossy lips used to equal sticky ones (us long-hair types still shudder about the way our old glosses stuck to our layers), today's formulas do better.
These days, you can get volume and shine in a gloss that not only makes you look good, but feel good too with essence Extreme Shine Volume Lipgloss. All 14 shades glide on super smooth and the volumizing formula brings the wow factor while being clean (free from gluten, lactose, alcohol, oils and parabens), vegan and cruelty-free. You can also smile thinking about its carbon neutral packaging, the recycled cap saves approximately 40 tons of virgin plastic per year.
Still need a reason to add this gloss to your hoarder-level collection? It's $3! It comes with rave TikTok-approved reviews! And the results all point to a product you won't regret buying, probably in every shade.
If we're getting real about our love of lip gloss, we have to talk about its best qualities–it's comfy, versatile and looks good with everything just like our fave jean jacket. Here are three ways to wear your essence Extreme Shine Volume Lipgloss to maximize your pout-ential!.
Apply A Clear Coat
Clear formulas–as in polish, brow gel, nail lacquer–you name it, are a makeup bag MVP for a reason. They let the real you shine–literally. There's no faster and easier way to enhance your lip's natural beauty than with a coat of clear lipgloss. Try: essence Extreme Shine Volume Lipgloss in Crystal Clear.
Dazzle 'em, Darling
Level up your lipstick by applying a coat of shimmery gloss overtop to add extra dimension to your pout. The light-reflecting pigments will catch the light and make your lips look fuller. Think monochromatically and choose formulas with like tones (like pink on pink) for best results.
Plump Up The Volume
We may have Kylie to thank for introducing us to overdrawn lips but we're making this look our own with the help of a 3D styling hack. If you've always wanted the look of a much-fuller pout, start by applying concealer over your natural lip line to help diffuse it. Next, slightly overdraw your natural lip line using a soft creamy lip pencil like essence Soft & Precise Lip Color. Then, apply essence Extreme Shine Volume Extreme Plumping gloss overtop, which packs cooling menthol to give your lips serious va-va-voom volume.
you might also like...
We're spilling the tea on achieving a flawless makeup base using our top-rated makeup products.
You don't have to break the bank for a full face of makeup that looks expensive. Here's how to achieve the best full-face of makeup for under $50!