Our Secret Mascara Tips For Longer Eyelashes
January 19, 2023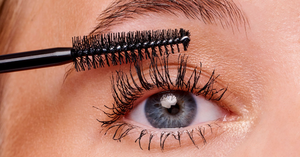 These are the tips and tricks the pros use for longer lashes!
Who here doesn't wish for longer eyelashes every single time they do their makeup routine? Yeah, us too. We get it, long lashes can instantly improve our look in seconds. It's like a beauty magic trick and why most say mascara is their ride-or-die product. It's also the one product we've been applying the same way since we first started wearing makeup.
Did you know there are tricks and tips for getting the most out of your mascara? That's right, you can game the mascara system to work in your favor, and it's really easy. Here's how to level up your lash game and learn how to get longer lashes once and for all.


Start With a Clean Canvas
One of the biggest mascara secrets most people don't know? Clean lashes will give you the best results. That means the mascara still hanging around from last night is going to spell doom for your morning look. After washing your face at night, take a cotton pad soaked in eye-makeup remover and gently swipe it over your eyes to remove any mascara your cleanser missed. Use an oil-free formula to ensure your lashes have the cleanest canvas possible come morning.

Choose a Good Long-Lash Formula
If you are after long lashes (and really, who isn't?), mascara formula matters. With so many types on the market, it can be next to impossible to find one that actually delivers the results you're looking for. Generally speaking, mascara formulas featuring built-in nylon fibres will give you great long lash results. The fibres in this fan-fave long-lash mascara act like an extension by coating and extending the hairs with every swipe. If the vibe you're going for is faux lashes without the hassle then go with this viral best-selling mascara that delivers lash amazing-ness on all fronts: lengthening, curl and volume. You can read a love letter to this beloved mascara here.
One of the must-have mascara tips for long lashes? A mascara with a good brush. Yes, the formula is important but so is the brush. You need one that will grab every last lash as the hairs are not always the same length and thickness. A great brush like the paddle-focused one in this extension-worthy mascara will pick up all the hairs and coat them evenly and swiftly.


Use an Eyelash Curler Already!
Every beauty pro knows that learning how to get longer lashes means using good tools and that means an eyelash curler. Don't be fooled by the name, this magic tool isn't just for curling, it's about extending and lifting too (the qualities that contribute to longer-looking lashes). Not all lash curlers are created equally so do some research into the tried-and-true ones the pros use. And always use a gentle hand–you want lifting not crimping!


Application Hacks For Longer Lashes
When it comes to longer lashes, learning how to swipe right is key (see what we did, there?). There are so many ways to apply the good stuff so we'll give you the highlights so you don't have to scroll in your FYP on TikTok to learn through trial and error.
Use fresh mascara (read: one that's less than six months old). The older the formula sits, the bigger chance it has to get dry and therefore clumpy. So that old bottle you've been meaning to finish off? Just do yourself a favor and toss it.
Every tube contains a wiper, which is an internal mechanism for removing excess product from the brush before it hits your lashes. So, there's no need to pump the brush into the tube excessively. You do want too ensure your brush isn't too heavily loaded, however. Especially when you crack open a brand new mascara, you may need to blot some of the excess formula onto a tissue before applying it to your clean, curled lashes.
Repeat after us: coat lashes from root to tip for longer lashes. Yes, we've seen the TikTok hack of holding the brush vertically but that only works for lashes that are already super long (sad but true!). Assuming you're here for longer lashes, just go ahead and apply your mascara traditionally: with your eyes open wide and by wiggling your brush from root to tip to coat your lashes evenly and beautifully. Stick to 2-3 layers and don't rush because that's when mistakes (ahem, smudges) happen.


Don't Forget Your Bottom Lashes
A big makeup secret for getting a longer-lashed look? Applying mascara to your bottom lashes. This often overlooked step is the only way to create that doll-like effect that we associate with long lashes.
you might also like...
We're spilling the tea on achieving a flawless makeup base using our top-rated makeup products.
You don't have to break the bank for a full face of makeup that looks expensive. Here's how to achieve the best full-face of makeup for under $50!