Summer "IT Girl" Makeup Routine
June 21, 2023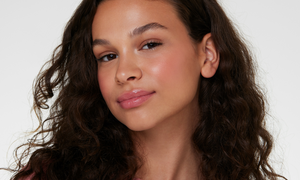 We've got your summer makeup look on lock
It's finally summer and to us, it means one thing only: It's time for a new summer makeup routine. You know that girl whose makeup always looks perfect/natural/flawless no matter what the occasion? Well, we're channeling her this season. Think new beauty icons like Alix Earle and Sofia Richie whose GRWM posts give us all the inspo we need. If you're looking for easy summer makeup and a new summer-makeup routine, let's go (so you can spend your summer doing fun, summery things).
Gorgeous, gorgeous girl complexion
Flawless summer skin starts with your skincare routine and good habits. If you haven't been already, now is the time to commit to a cleansing, moisturizing, exfoliating and daily sunscreen regimen. Trust us, it'll pay off in the future and make your summer makeup look way better.
You don't need a lot of base makeup to pull off the best makeup for summer but you do need some key items. Remember, less is more in the summer when our skin's natural state is already more glowy. Instead of applying foundation to the whole face, try spot-treating any areas of concern with full-coverage concealer instead. Think dark circles (focusing on inner and eye corners), blemishes and any redness around the nose and the outer edges of your lips. We also love to add some to the triangle area just above our brows for extra dimension. 
Follow up with a stick bronzer, which doubles as a quick contour (you can learn how to contour your face shape here). Apply this creamy, blendable formula along key areas of your face's perimeter like the sides of the forehead down to the temples, along the jawline for definition, and also along the sides of your nose. Be sure to blend it in well using a fluffy buffer brush so your skin is somewhere between a clean-girl aesthetic and a golden-hour glow.
Bold summer brows
Easy summer makeup means looks that punch above their weight–and full brows will do just that. With a little product love, they can really carry your whole face. When it comes to an easy summer makeup routine, you'll want to pick up some hero brow products. To tackle color and fullness, use this angled brow pencil to fill in brows and accentuate their shape using small, feather-like strokes. Bring even more thickness and bold-brow energy to your brows with this fixing brow mascara. It will keep hairs in place all day and can even be used alone without a brow pencil if you're in a hurry.
Bare-minimum eyes
The best makeup for summer is also the easiest to pull off. Liquid eyeshadow understands the summer makeup assignment. They're simple to apply, come in a variety of shades for every summer occasion and their finished effect makes it look like way more effort when into the application. Simply swipe this luminous eye tint to your lids and diffuse the color over the entire lid using a fluffy eyeshadow brush. Finish off your eye look with a few coats of instant volume mascara in a waterproof formula because, well, it's summer.
Sunset cheeks
Blush and highlighter are our summer makeup routine BFFs because they give us the color our complexion craves. Like the pretty shades of a summer sunset or ripe fruit, hot pink and tangerine are equally gorgeous on the cheeks. Our new blush obsession is this cheek palette that can be mixed and layered depending on your desired effect. Take your blush game to the next level by pairing it with a soft, baked highlighter to really make it stand out. All you need is a light dusting over these areas: the center of the forehead,down the middle of your nose, cupid's bow and along the upper cheekbones. 
Your summer lip wardrobe
What's your summer lip love language? If you're like us, you have a few. From bright moisturizing balms to long-wear lipsticks, there are so many formulas to love in the summer. For subtle color and major moisture, go with a bright lip balm
 in a popsicle-worthy shade like pink or orange. You can apply this balm easily and on the go–sans mirror! We're also big fans of long-wear formulas (read lipsticks that won't budge) when heat and sweat enter the equation. This line of hydrating matte lipsticks has super wearable shades that can work day or night.
you might also like...
From a glowy and gleaming complexion to bright summer lips and cheeks, and more, we've got your summer makeup look on lock. Here's how to channel your fav summer It-Girl makeup routine.