How To Contour According To Your Face Shape
May 08, 2023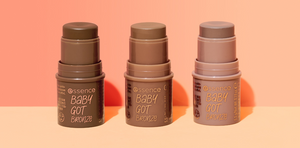 This is the right way to contour your face.
Is it just us or is every post on your FYP a lesson on face-shape contouring? There's no denying the benefits of a good contour (we're looking at you Alix Earle!) but it's not a one-size-fits-all approach no matter how easy it looks on those #GRWM posts. The best way to contour according to beauty pros is to contour for different face shapes. That's right, that means everyone can reap the rewards of face contouring once they master the placement of where to add definition and highlight, according to their unique shape.
Here's a primer on how to contour according to your face shape.
BUILD YOUR CONTOUR TOOLKIT
When it comes to contouring based on face shape, it's important to stock the right products in your beauty kit. Here's what you'll need for getting #boldglamourfilter worthy results.
Foundation
What's not up for debate for face shape contouring is a good base to start building from. That means an even complexion with a natural-looking longwear foundation. This will help your contouring products do their thing and look their best. Brush up on the best way to find your perfect shade here.
Concealer
Just like foundation is key to face contouring success, so is concealer. Yes, it's needed to brighten up obvious areas like underneath the eyes and inner and outer eye corners, and around the nose and mouth, but it's also great for highlighting areas like the area between your brows and down the center of the nose. Be sure to choose a concealer shade that's one or two shades lighter than your natural skin tone and foundation to get the brightening effect you'll need.
Contour Palette
A beginner-friendly face shape contouring must? A powder contour palette that takes the guesswork out of shade selection. This matte yet luminous powder duo is really easy to use a great foolproof option for those who are just starting to learn how to contour their face shape. 
Bronzer stick
A product staple on all the best GRWM face contouring how-tos is a creamy bronzing stick. It allows for precise application and also easy blending with the right tools (or let's be honest, with your fingers).
Highlighter
The finishing touch on all good face shape contouring looks is a fine shimmer highlight to bring out the areas you want to really elevate on your face, like your cheekbones and inner eye corners. 
Brushes
The single most important make-or-break element of a face shape contouring is a blended final effect. That means the brushes and tools you use need to play a starring role. Be sure to use different brushes for highlighting and bronzing/contouring and then remember to blend, blend, and blend! A beauty sponge can also help diffuse any harsh makeup lines (the spell of a not-so-great contour look).
https://essencemakeup.com/collections/brushes/products/make-up-buffer-brush
How to Contour Based On Your Face Shape
If Your Face is Round
Contouring flatters those with round faces, like Selena Gomez, by adding definition where there's overall softness around the edges of the face. Concentrate your contour definition on key areas like the hollows of the cheeks, jawline and the area from the temples up to the forehead, for best results. Then highlight the areas underneath the eyes (above the cheeks) and in the center of the forehead to balance out the contoured areas.
If Your Face Is Oval
While already pretty symmetrical, oval face shapes (think Rihanna) can still benefit from contouring in strategic places. Similarly to a rounded face shape, contouring the cheekbones and highlighting the forehead will elevate key areas, but leave out the temple and jawline areas as you want to open up the outer edges of the face to create softness.
If Your Face is Square
The goal of contouring a square face shape, like Olivia Wilde's, is to soften angles to create more roundness and fullness in the face. That means blending your contour really well on areas like the edges and along the top of the forehead, cheek hollows and along the jawline. Concentrate your highlight areas to the centre of the forehead, underneath the eyes and chin for symmetry and balance.
If Your Face is Heart-Shaped
Face shape contouring works well for those with a heart-shaped face (like Sydney Sweeney) because it helps to balance out the symmetry from the top half of the face the bottom, which tends to be narrower. Concentrate the contour along the temples up to the forehead (in a C shape) and then use highlight on the chin area for best results.
you might also like...
We're spilling the tea on achieving a flawless makeup base using our top-rated makeup products.
You don't have to break the bank for a full face of makeup that looks expensive. Here's how to achieve the best full-face of makeup for under $50!